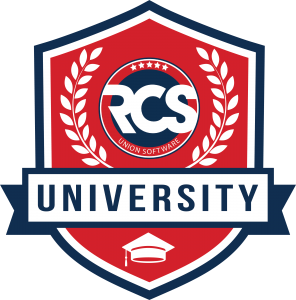 The Tools for Success – Introducing RCS University
Here at RCS Union Software, we are dedicated to our mission: Make the jobs of Local Union Officers more efficient. While our software is designed to be user-friendly, we recognize that people have different ways of learning and adopting new technology. In an effort to enhance your user experience with our product, we offer multiple avenues for learning.
RCS University
We are excited to announce the newest tool we offer our clients: RCS University! RCS University is accessible from our website by entering a password that can be found on the Dashboard within the RCS Software under RCS News. You'll also find a link in "Links & Resources" on the Dashboard.
This resource contains a collection of videos that complement our RCS User Guide. Each recording is labeled descriptively with bullet points on the information covered so you can quickly zero in on the topics you need. These recordings of the software may just help you visualize the task at hand better while allowing you to follow along at your own pace.
RCS University page is continually being updated, so be sure to check back frequently if you are looking for a specific functionality or want to see the latest updates in action. We would be happy to hear your suggestions for future topics – one of our 5 Star support team members will create a video for it!
5 Star Support
Our 5-star support team works with you every step of the way to ensure you get exactly what you need from our software. Need a hand filing a tax form? We can do that for you. Don't recall how to access a specific function inside the system? Regardless of the reason for your call, we are confident that we can help you. With remote access and web-based software, our team can work through your issue with you just as if we were sitting side by side. Providing premium support is so important to us that we use the five stars on our logo. They serve as a reminder to consistently deliver top-notch, fast, and friendly service for every issue and for our customers to see the level of importance we place in standing behind our product.
Training Classes
We offer live training in a number of ways too!
Your support contract includes remote web-based training as needed – whether for a new user or just a refresher on a particular topic. Modern technology makes it so easy to work together- just reach out to set up a meeting.
Some folks prefer in-person training. Arrangements can be made for on-site training for your staff at your location or possibly ours. Please reach out to discuss options and costs.
RCS hosts an annual Fall Class for our community to gather together to review the software from all angles. We want to make sure our users are familiar with their software and also have a voice in guiding its future development.
RCS User Guide
While we do our best to help or explain functionality whenever we can, there is no underestimating the value of a print resource. Found on our website, the RCS User Guide is a comprehensive reference tool for Local Unions to learn how to utilize and navigate the RCS platform most efficiently. This tool can be downloaded and saved offline, so you always have access to a quick reference guide, and it is broken down into several sections to make it easy to search for what you need. We have included screenshots of the software as well, so you have points of reference while utilizing this tool.
If you have any suggestions or comments, don't hesitate to reach out to us: team@rcsunionsoftware.com.